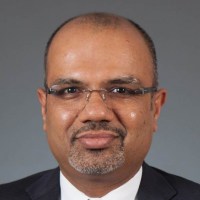 Dr Madhur Garg completed his Medical School at King George's Medical College (1994) and pursued his residency in radiation oncology at Rush Presbyterian St Luke's in Chicago and Montefiore Medical Center in New York. He also completed specialized fellowship at Wayne State University in Detroit.
He is currently Professor of Radiation Oncology and Otolaryngology at Albert Einstein College of Medicine and Clinical Director of radiation oncology at Montefiore Medical Center, New York, USA. He is co-director of Stereotactic RadioSurgery (SRS) program.
His clinical and research interests include Advanced Technologies in Radiation Oncology with focus on stereotactic targeting, functional imaging and adaptive planning. He has interest in translational research involving Anti-angiogenensis and radiosensitivity. He is also actively involved in Quality of life and health care disparities issues for cancer patients.
He is recipient of the prestigious ASCO Young Investigator's Award and Department Of Defense Physician Research Award.
He is listed as "New York Top Doctors", "America's Top Oncologists" and "Best Doctors in America"
He sits on several committees for Montefiore-Einstein as well as international societies such as ASCO, ACR and ASTRO. He is on reviewer board for several journals including the International Journal of Radiation Oncology Biology and Physics, Head Neck and Gynecology Oncology. He is principal investigator of several national and international research studies involving novel cancer treatment modalities.